Classic Explorer Starter Template
Craft your next classic fantasy rpg zine with this time-slaying, grid-taming, torch-swinging layout template. 
It's everything you need, including styles and examples of tables, lists, and map-focused layouts. A greatsword to your workflow. This template also comes packaged with the full guide and sample document, which shows off everything in the full template, including multiple layouts, copy-n-paste features, and of course, tips and tricks for how to bring it all together. 
What does this template make?
An old-school style A5 zine with small but legible type. It's perfect for adventures, games, and campaigns in the style of Cairne, Into the Odd, and adventures like The Isle, Silent Titans, and Deep Carbon Observatory.


What's included in this template?
InDesign file (Compatible w/ Adobe CC)
InDesign file (Compatible with CS6+)
Publisher Package (Compatible w/ Affinity 2)
Publisher File (Compatible w/ Affinity 1)
Canva Template Link (Compatible in-browser)
4 Open Source Fonts w/ Language Support

Classic Explorer Guide PDF
User Instructions

What's not included?
This template doesn't have art, copy, or instructions for how to print or distribute your game. For those adventures, you'll need to turn to the internet.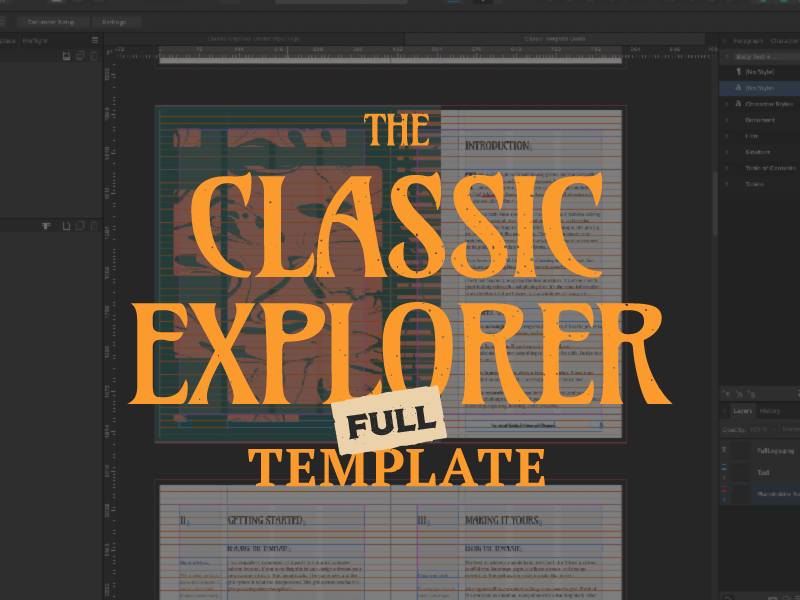 Ready for more?
Upgrade to the full template and get much more from your hard-earned coin. The full Classic Explorer Template offers everything here (including the same files), in addition to all the bones and pieces of the guide laid out for you to play with. 
That's twice as much utility and a lot less of your time spent in the design mines.